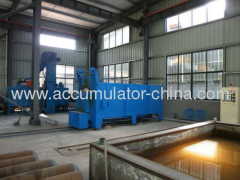 Ningbo Drift Hydraulic Co., Ltd. provides hydraulic accumulator and high quality rubber to many industries throughout the world. Our hydraulic accumulator can be produced from a variety of materials in any shape imaginable. We can work to your exact specifications, or we can help you design custom accumulator to your requirements. We have a number of in-house accumulator processes that will ensure the quality and precision you need with a price and delivery that will exceed your expectations.

Our hydraulic accumulator include bladder and diaphragm styles that can be used for thousands of applications. Our accumulator products include steel ,plactic ,stainless materials.

According to the method of isolation, accumulators are classified into three types: the bladder type ,diaphragm type and the piston type. These days, diaphragm type accumulators are more commonly used.